---

HEAVEN, February 27 - March 1, 2020 | Thu - Sat 8pm, Sun 7pm
Booth Playhouse, Blumenthal Performing Arts Center | 130 North Tryon Street, Charlotte, NC 28202
HEAVEN is an artivist roller coaster ride through conflict and harmony, unrest, chaos, courage and kindness.
It is inspired by the poem FALLEN MOON FALLEN STARS by North Carolina's award-winning poet Chuck Sullivan and the work of visual, performing and media artists from Charlotte and beyond. Told through contemporary dance, theater, music, film, video-mapping and visual arts, the story travels through realities and dreams of Maria-Helena, a detained immigrant child. Separated from her parents and maneuvering an upside-down heaven in her holding cage, she learns that to be released she must find a "lamp besides the golden door."
Supported by Mother Mary and the ghost of Maria-Helena's murdered brother, she discovers it hidden under the treasures of a narcissistic Pinocchio. To give up the lamp, Pinocchio must lose his treasures and become a real "Mensch" - with the help of the audience, whose own response and participation may change events in HEAVEN.
Artistic Direction: Till Schmidt-Rimpler and MyLoan Dinh
---

GET TO KNOW THE SHOW: THE NEW COLOSSUS
A Conversation with Director and Co-Writer Tim Robbins
JAN 27, 2020, McGlohon Theater at Spirit Square
THE NEW COLOSSUS director and co-writer, Tim Robbins, joins a panel to discuss the production, which launches its national tour in Charlotte, and how it connects to immigration and refugee communities around the nation. Local leaders from within those communities will join to discuss these issues as they relate to Charlotte specifically.
Panelists include:
Tim Robbins, director and co-writer of THE NEW COLOSSUS
MyLoan Dinh, Charlotte-based multi-disciplinary artist
Sil Ganzó, Founder and Executive Director of ourBRIDGE for KIDS
Theresa Matheny, Fruitful Friends Program Director of Refugee Support Services
---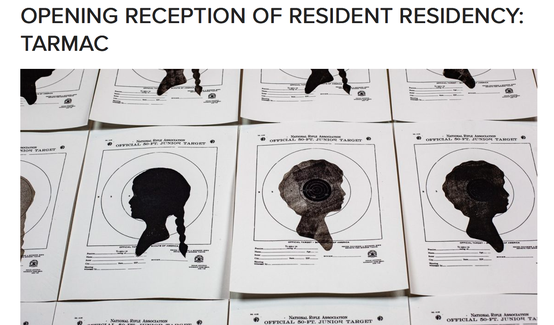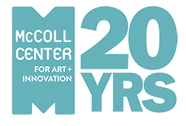 McColl Center for Art + Innovation
Opening Friday, January 10, 2020, Exhibition: Jan 10 - Feb 8, 2020
6:00-9:00 p.m.
Join us to celebrate Tarmac, an exhibition by the inaugural Resident Residency artists-in-residence—Dammit Wesley, HNin Nie, Helms Jarrell, MyLoan Dinh, and Marlon Morrison. The exhibition, curated by Community Curatorial Fellow Janelle Dunlap, showcases the artwork of these five Charlotte artists who are building power in their communities to resist and reimagine our collective identity.
Image: MyLoan Dinh, Made in America (everyday 21), detail, mixed media, paper, linoleum prints; 11 x 8.5 inches each x 21. Courtesy of the artist.
---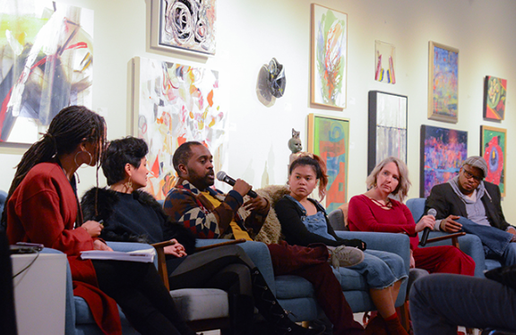 ---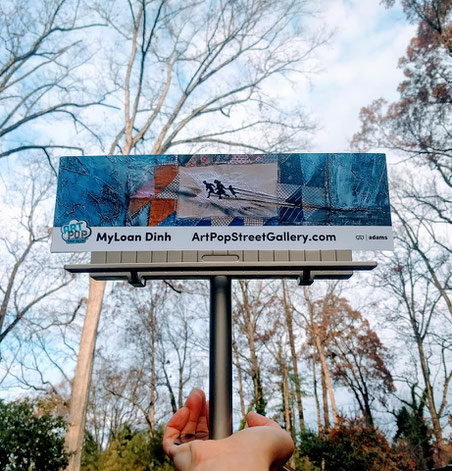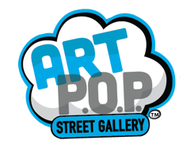 Honored to be in the Class of 2020! 
Since its founding, ArtPop Street Gallery's Charlotte program has promoted 112 artists on millions of dollars of advertising space, donated from partners including Adams Outdoor Advertising, Charlotte Center City Partners, Awedience Media, Northlake Mall and the anonymous donor that funds the displays at Charlotte Douglas International Airport.
EXCLUSIVE: ArtPop Street Gallery Unveils Class of 2020
By Ryan Pitkin
December 5, 2019
---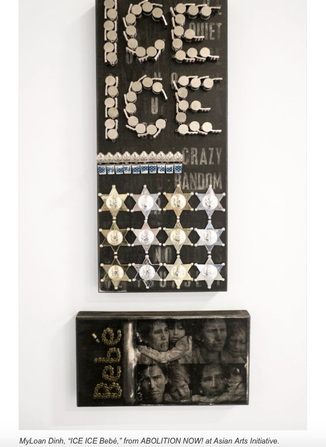 'ABOLITION NOW!' at Asian Arts Initiative examines racism and mass incarceration in America
July 28, 2019
By Deborah Krieger
Deborah Krieger visits Asian Arts Initiative's exhibition "ABOLITION NOW!", a group exhibition that features artworks about racism and mass incarceration in America and highlights the arts-related work of local prison abolition and anti-incarceration groups.
---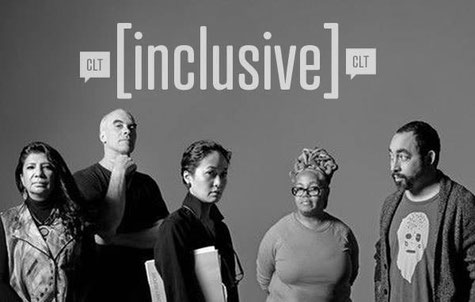 ---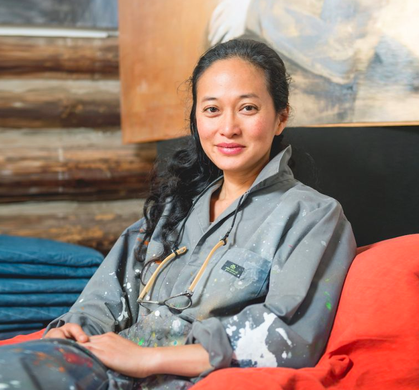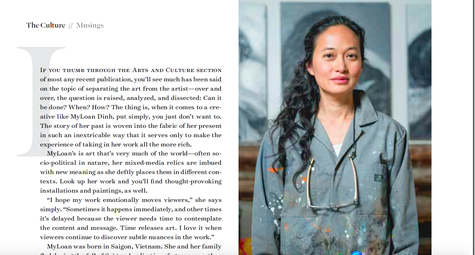 An immigrant tale, a sharecropper memory, a media/Bible take on women: All up for discussion here
by ALYSSA PRESSLER, correspondent
Charlotte Observer, February 16, 2018
http://www.charlotteobserver.com/entertainment/arts-culture/article200520714.html
Let's Talk Art with Brooke
Episode 55: Interview with gallery owner Sonya Pfeiffer of Elder Gallery of Contemporary Art, about the Art of Struggle exhibition, featuring MyLoan Dinh, Charles Farrar and Susan Brenner.
https://letstalkartwithbrooke.com/tag/myloan-dinh/
diaCRITICS highlights artists of the Vietnamese diaspora: Profiles in Art
Feb 22, 2018